Integrated system for Food Service
G Nova System
The best spoutless system to serve the food service market.
The automatic machines of the family GNova System have been created to suit the different food production processes,
granting quick and efficient production.
SIZES and MATERIALS
---
With the use of a single machine it is possible to process flst bags, stand up and pillow up from 500 ml up to 10 litres.

Preserve and customize
Find out more
Optimum and customized solutions for every product
AREAS OF USE
---
A full range of flat bags or standup, even shaped ones, for a wide range of food products,
such as tomato sauce, pulp or diced, fruit preparations and juices, concentrates or preserves.
SERVICE
---
Choosing Goglio SYSTEM means that you can rely on a single contact
to solve every eventual problem of the packing process.
A devoted after sale service is available for our customers, to examine in details
and to propose the optimal product packaging solution.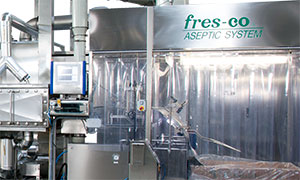 ASEPTIC PACKAGING LINES
---
Automatic horizontal aseptic or hot filling fillers of the GNOVA series, starting from pre-made spoutless bags, suitable for a wide range of food products.