Interpack 2021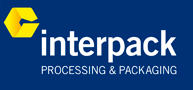 In the exceptional sanitary emergency we all are experiencing, the exhibition world is one of the most affected.

Travelling has almost stopped and exhibitions are not able to maintain their traditional role of aggregation.

In the current contingency related to the pandemic, Goglio top priority is to safeguard their customers and staff's health: with this priority in mind we regretfully decided not to attend Interpack 2021. We are confident that all our colleagues and friends from the packaging industry will share our view and agree with this decision.